Spain approves measure to protect Bullfighting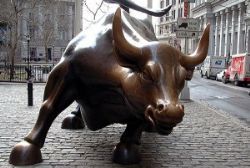 Spanish lawmakers today approved a law intended to protect the 'cultural sport' of Bullfighting, however the measure is expected to cause further conflict with the region of Catalonia.
The house of Senate passed the bill late last night, which theoretically supersedes the Catalan law to ban the event within their region.
Any attempt to officially overturn the ban is likely to cause further conflict between the regional and national governments, where emotions are already running high over the issue of independence.
The bill was prompted by a petition from bullfighting supporters which received 600,000 signatures, including that of PM Mariano Rajoy.
Recommended Reading
• Hacking Group Anonymous Targets Brutal Bull-Slaying
• Naked Bullfighting Protest in Catalonia
• EU Funds Bullfighting in Spain Claim
• Court Challenge to Challenge Ban on Bullfighting in Catalonia