Spain attracts China Airlines to Madrid-Barajas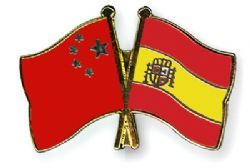 Spain is in talks with Asian airlines to bring more flights to Madrid's underused Barajas airport ahead of the planned privatisation of debt-laden airport operator AENA, its industry minister told Reuters.
The Spanish government wants to sell off up to 60% of AENA early next year to help improve its finances. But declining air traffic at Barajas, which represents 20% of AENA's income, has put off prospective buyers.
Attracting new airlines to fill excess capacity at Barajas' new Terminal 4 - known as T4 - could turn the situation around. Barajas traffic fell by 14% in the first 9 months of 2013, compared with the same period last year.
It could also help Spain tap one of the world's fastest-growing export markets - outbound tourism from China.
Jose Manuel Soria told Reuters he had held talks with the chairman of at least one Chinese airline after the government offered to cut fees for airlines that inaugurate flights to Madrid next year.
Investors that stayed away from Spain during Europe's debt crisis have started to return, giving the government a chance to shed assets such as AENA, which calls itself the biggest airport operator in the world and expects to post core profit of €1.49 Bln in 2013 after 2 years of losses.
"The T4 is Spain's most important airport infrastructure asset and its current underused capacity should be opened to airlines from the rest of the world," Soria said in an interview at the Spanish embassy in London.
He said such deals would draw investors to AENA, valued by analysts at €12-16 Bln, and help turn T4 into a connection for flights between Asia and Latin America.
Only 4 flights a week connect Spain with China, compared with 50 in the UK, 65 in France and 86 in Germany, the minister said.
"Chinese tourists have to go through another European capital to get to Spain. We prefer to reach deals so that they come to Spain or even use Spain as a hub for getting to Latin America," he said.
Spain envisioned the sleek T4, designed by architect Richard Rogers, as a hub for European travel to Latin America when it opened in 2006. But Latin American traffic to Europe has shifted to other countries amid problems at Spanish airline Iberia, part of the International Airline Group.
CHINESE TOURISM
Soria said his talks with the Chinese airline included offering Barajas as a stop-over for flights to Brazil to shorten current routes via Los Angeles and save costs.
Lower fees would also be welcomed by low-cost airlines, which have complained Barajas is too expensive.
Spain is keen to attract affluent Asian travellers to further boost tourism, one of the few bright spots in the country's ailing economy.
Earlier this week, China's HNA Group, parent company of China's No. 4 airline Hianan Airlines, agreed to hike its stake in Spanish hotel chain NH Hoteles to 24% with shares bought from billionaire Amancio Ortega.
Spanish media have said the Chinese group is also eying the 12.6% of NH Hoteles owned by nationalised Spanish lender Bankia a move that could lead to a full takeover.
"This entrance of foreign capital is positive because it shows renewed confidence in Spain (...) and could mean more Chinese tourists coming to Spain through a Chinese company," Soria said after attending a global tourism event in London.
Spain, long a favoured sun and beach destination for north Europeans, has been trying to attract more urban travel, pointing to the culinary appeal of San Sebastian in the north to historical monuments in southern Seville, Granada and Cordoba.
"Chinese tourists don't tend to look for good weather and sunshine (...) but rather other matters" such as history, culture and cities, Soria said.
While beach resorts remain popular with foreigners, tourism to Spain's capital, which has fallen sharply due to a decline in business and domestic travel during a recession that has just ended, could benefit from more flights through and to Madrid.
Recommended Reading
• China advises tourists how to behave in Spain
• More Chinese buying property in Spain