British Men do over 50% More Housework than Spanish Men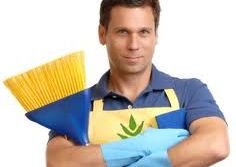 Research by a Spanish University has found that British men do over 50% more help around the house as Spanish men.
Marta Dominguez Folgueras, of Pompeu Fabra University in Barcelona, studied the living and working habits of more 58'000 mean across a number of European countries, and found that co-habiting Men in the UK do around 33% of all household chores, whereas in Spain Men only managed 20%.
The Spanish team studied the amount of time men spent cooking, ironing, cleaning the house, washing dishes, doing the laundry and odd jobs, gardening and shopping for groceries.
Presenting the study, Folgueras concluded "If all housework is considered, the UK would rate as the most egalitarian country, followed by France, Germany, and as more inegalitarian cases, Italy and Spain"
"The difference is significant: British Men do on average one third of the housework whereas in Spain, they hardly manage 20%".
Those taking part in the study were required to keep a diary of their activities throughout the day. The majority of housework were done by Women - except in shopping, where the chores were generally split 50/50.
Recommended Reading
• Spain : The Decline of Machismo