Paramount Murcia Payoff ?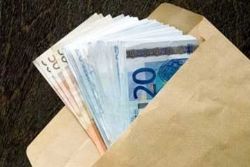 The CEO of Construction company, Ferrovial, met with the Presidential Advisor the Region of Murcia, Manuel Campos, earlier last week.
Just 2 weeks ago Proyectos Emblemáticos Murcianos SA (Premursa) announced that Ferrovial had been awarded the €52 Mln contract to build the 1st phase of the Paramount Pictures theme park at Alhama de Murcia.
Ignacio Gaston met with Campos, where he confirmed his company intended to invest some €200 Mln in the region over the next few years, where Ferrovial will offer services "relating to the management of environmental infrastructure, transport, urban services, energy efficiency, etc..."
Ferrovial already offer a number of services to various municipalities in the region - notably refuse collection.
Tumbit is not suggesting for one minute that the timing of the 2 announcements is anything other than a coincidence.