Spain's bad bank sells €323 Mln of loans to Deutsche Bank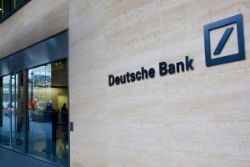 Spain's "bad bank", which was set up to cleanse ailing banks of soured loans, has sold 2 portfolios of loans worth a total of €323 Mln to Deutsche Bank, the third sale of its kind.
The government-backed vehicle, known by its Spanish acronym SAREB, put at least 7 portfolios on the market in recent weeks, including stakes in tourist resorts and a shopping centre, homes and syndicated loans to property developers.
The agency said on Thursday the portfolios sold to the German lender included around 30 loans, many backed by commercial property, with a nominal value of €233 Mln.
It also sold two loans with a nominal worth of €90 Mln from property firm Metrovacesa, according to sources close to the deal.
SAREB did not disclose how much Deutsche Bank paid for the loans.
The deals come after SAREB sold loans worth €35 Mln from Metrovacesa in May and a package of syndicated loans from property group Colonial worth €245 Mln in August.
SAREB was set up to cleanse troubled Spanish banks of real estate holdings that went sour during the financial crisis.
It is taking advantage of growing interest from professional investors to catch up from a slow first 6 months of operations.