Spanish Prosecutor : Princess Cristina no Case to Answer in Investigation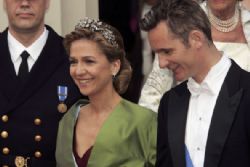 The Department of Public Prosecutions in Spain today announced their decision not to indict Princess Cristina as part of the wider investigation into the alleged fraudulent activities of her husband, Inaki Urdangarin.
The Prosecutors Office argued a lack of evidence against the younger daughter of King Juan Carlos, adding that "Mere suspicions or conjectures are not valid elements for an indictment".
The case, which opened in a court in Mallorca almost 2 years ago, concerns allegations against the Duke of Palma and his former business partner Diego Torres, that the duo embezzled €6 Mln in public funds.
The funds were allegedly placed in the non-profit Noos Institute, which Urdangarin chaired between 2004 and 2006 - which Princess Cristina was a board member of - for it to organise sports events.
The investigation has plunged the royal family into its worst popularity crisis since Spain return to democracy in 1975.
Cristina, 48, a manager in the social programs foundation of the Catalan finance group CaixaBank, moved to Geneva in August with her4 r children, where she will work on the firm's joint projects with UN institutions.
The Duke of Palma is currently estranged from his wife, living in Barcelona.
Recommended Reading
• Duke of Palma Causes Further Embarrassment to Spain's Royal Family