New Flights to Almeria Announced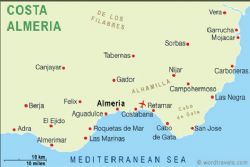 Budget Airline Ryanair has announced the creation of a new route to Almeria.
The new flights will take effect for the Summer Schedules of 2014 - staring from the end of March - with a frequency of 4 operations per week from Dublin Airport.
The addition will complement existing routes from Almeria to London-Stansted and Esat Midlands Airports Airports.
Today's announcement also saw the Airline confirm that flights from Dublin to Madrid would increase in frequency from 14 to 18 operations per week.