EU says Spanish controls at Gibraltar border lawful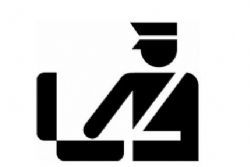 There is no evidence Spain broke EU law by imposing tight controls at its border with Gibraltar, the EU executive said on Friday, urging both sides to act to ease bottlenecks that strained relations between London and Madrid.
The European Commission sent inspectors to the British territory in September after Britain and Gibraltar complained to Brussels that Spain was applying over-zealous border controls, causing long lines for workers and tourists entering and leaving the rocky outcrop near the tip of southern Spain.
"The Commission has not found evidence to conclude that the checks on persons and goods as operated by the Spanish authorities at the crossing point ... have infringed the relevant provisions of Union law," it said in a statement.
Britain said it was confident that Spain was breaking EU law by imposing "politically-motivated" checks at its border with Gibraltar.
For its part, Spain, which wants to reclaim Gibraltar 3 centuries after ceding it to Britain in a treaty, said the Commission had backed its position.
"The government is satisfied because Brussels has signalled that we did not break any Community rules by establishing those controls at the Gibraltar border," Deputy PM Soraya Saenz de Santamaria told reporters in Madrid.
The Commission wrote to the Spanish and British governments recommending practical ways to improve the flow of people and traffic through the border crossing.
Gibraltar is not part of the EU's Schengen passport-free area, so travellers between Spain and Gibraltar are subject to passport and customs checks.
Spain has complained that Gibraltar has not done enough to stem what it says is an increasing flow of smuggled cigarettes out of the territory, which has a low sales tax.
Cigarettes are about 40% cheaper on "the Rock" than in Spain.
TOBACCO-SMUGGLING
The Commission said Spain should improve traffic flows at the border crossing, for example by increasing the number of vehicle lanes, and carrying out better targeted checks on travellers. It urged Britain to improve safeguards against tobacco-smuggling. Both sides should exchange intelligence on tobacco-smuggling, the Commission added.
It asked both sides to report back to Brussels within six months on what they had done to carry out its recommendations.
Gibraltar, whose population is about 30,000, has a booming economy largely based on online gambling and insurance firms. Millions of tourists visit every year, attracted by its subtropical climate, rare Barbary macaque monkeys, duty-free shops and overtly British culture.
Since August, Gibraltar has continued to complain sporadically of excessive border controls on the Spanish side of the border, both entering and leaving the British enclave.
Gibraltar's complaint is that on some occasions Spain unfairly searches every single person and car entering and leaving the British territory, causing hours of delays.
The dispute broke out soon after a tiff between Gibraltar and Spain over fishing in waters around the Rock.
Spain said Gibraltar had caused environmental damage and blocked access to its boats in July when it dropped concrete blocks into a shallow area of disputed waters to create an artificial reef.
Gibraltar says Spanish fishing boats have depleted fisheries with illegal methods and the reef would help replenish stocks. Gibraltar accused Spain of stepping up border checks in retaliation for the reef. Spain denied this.
Recommended Reading
• Spain Threatens Further Queues at Gibraltar Border
• Spain Slams Gibraltar's "False Accusations" Before UN.