Spain to Subsidise Unprofitable Coal Mines Until 2018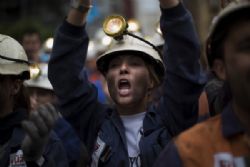 In a move that can only be described as being staggering, and regressive, Spain has published details of a law to allow uncompetitive coal mines to recieve financial assistance from the EU in the form of subsidies against operating losses - provided they agree to close by the end of 2018.
Collieries which mine coal for electricity are eligible for aid under the law, which is based on an EU decision dating back to 2010.
The EU imposed a number of conditions on state aid to coal producers, including a requirement that the amount of aid per tonne coal equivalent doesn't not cause prices for EU coal at utilisation point to fall below those for coal of a similar quality from third countries.
The European Commission initially wanted to end state aid to the coal mining industry by 2014, but a 4-year extension was granted following negotiations with Germany, Spain and other coal-mining member states.
Despite the obvious intention of the EU here being to promote the decrease in carbon emissions in favour of renewable energies, Spain just last month increased the taxes levied on producers of wholesale solar energy, as well as private consumers.
Recommended Reading
• Spain Solar Taxes : Removing Green Incentives