One Year Since "San Javier Airport Will Not Close" Tweet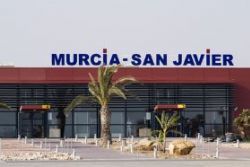 It is almost one year to the day since AENA tweeted the news that "San Javier Airport will not close".
The statement tweeted by @AENAAeropuertos on the 26th of November 2012 read "El Aeropuerto de San Javier no se va a cerrar", however this was not immediately clear as to whether this referred to Civilian traffic, Military traffic, or both.
AENA refused to comment further on the subject of the post, and it was unclear if this was an 'official' tweet, or simply the personal opinion of a unnamed employee.
What is certain - in the short term at least - is that there is little to suggest that the accuracy of the tweet should be called into question, with little sign of Corvera airport becoming operational in the near future.
Recommended Reading
• San Javier Closure "Makes Sense" : AENA
• "Why Did AENA Invest in San Javier Whilst Corvera Underway ?" : Congresswoman
• AENA Tweets San Javier Airport Will Not Close