Spain opens offer period for NCG Banco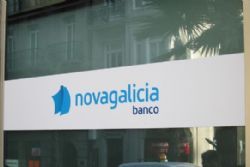 Spain will take formal offers this week from potential buyers for nationalised bank NCG Banco, Economy Minister Luis de Guindos said in an interview on Spanish television TVE on Monday. He said there was plenty of interest from buyers.
De Guindos said the sale of Catalunya Banc, another nationalised lender, had been delayed and that there was no timeline for the government to sell off the largest bank it took over, Bankia.
Asked how much money the government will end up losing after pumping European rescue funds into Bankia, de Guindos said he expected "positive surprises" from the lender in the future.
(Surely, by 'expecting a surprise', it ceases be a 'surprise' ?)