Spain to host GM trial on Olive groves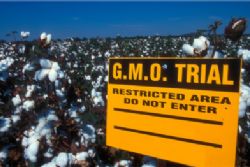 The BBC has reported how a biotechnology company has applied for permission to carry out trials of a genetically modified insect in Spain.
UK based Oxitec will carry out tests on Olive flies, and will involve the release of a number of male flies who have been genetically modified to ensure that future offspring are all male - thereby ensuring that the breeding population dwindles over future years.
The Olive fly can be responsible for considerable losses of crops, if left untreated.
With over 50% of the World's Olive Oil being produced in Spain, the crop has significant importance the economy of the country, making Spain the ideal place to hold such trials.
Mediterranean countries typically each spend around €30 Mln per year on pesticides to protect the Olive crop, however the flies have been building up resistance, making them less effective year-by-year.
A spokesperson from Genewatch, who monitors the use of genetic technology, has criticised the company for embarking on the trials. "[The fact that] the female offspring are programmed to die at the larval stage, means there will be lots of GM maggots in these olives," she told BBC News.
Oxitec has confirmed that the entire crop being used during the trials will be destroyed.
The Company's defended the trials, explaining how "without trials no new technology of any sort can be developed"
"It will have to be approved by regulators in the EU (you can't just get approval in one country) so that raises the review level/profile and gives consumers greater comfort. No regulator (or indeed us for that matter) would approve a product that carries a health risk.
" There is existing European legislation that prevents the sale of fruit with insect damage (e.g. larvae in fruit whether GM or not) Commission Implementing Regulating(EU) No 543/2011"
Recommended Reading
• Spain Clamps Down on Olive Oil