Spain's Montoro Rules Out Fresh Tax Rises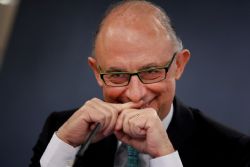 Spain's Finance Minister Cristóbal Montoro has made clear that the Government has no plans to implement new tax rises as part of efforts to exit the crisis.
Underscoring that increasing taxes "is not the answer" to overcoming the financial crisis, Finance Minister Montoro firmly ruled out the idea of raising individual income tax (IRPF) again.
Furthermore, Finance Minister Montoro vehemently rejected the idea of raising other taxes in Spain, most notably IVA or excise duties. Additional revenue will not flow from tax increases, but from other "more neutral" sources, Montoro maintained.
Instead, Montoro confirmed that the exceptional, temporary rise in the IRPF rates, applicable to 2012 and 2013 income, will end as planned on December 31, 2013. This will ensure that the measure is not "inequitable and unjust" or extremely harmful to the economy, the Minister explained.
Provided for within the framework of the Government's Royal Decree from December 30, 2011, the temporary rise in individual income tax rates formed part of an austerity drive designed to restore the public finances. The income tax rate rise ranged from a 0.75% rise in the tax rate applicable to income of €9,500, to a 7% hike for those earning above €300,000.
Concluding, Finance Minister Montoro stressed that the Government's economic policy is based on 2 key axes: fiscal consolidation and structural reforms. While conceding that demanding objectives have been set for this year and for next year, Montoro nevertheless emphasized that Europe means more growth, stability, and opportunity, as opposed to sacrifice.