Spain Leads October New Car Sales Growth in Europe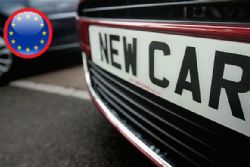 New Car sales in Europe are showing encouraging signs of growth as October sales showed an increase of 4.7% over the previous month equating to just over ONE MILLION new vehicles.
With October's results, insiders are encouraged following growth in September which is the first time TWO consecutive months of growth have been recorded since 2011.
Whilst year to date figures are down 3.4%, most major European markets are reporting increased sales in October with only Italy in decline, down 5.6% Germany, Europe's largest auto market reported a 2.3% increase, whilst France was up 2.6%. The UK new car market showed a 4% increase.
However Spain reported the biggest growth at 34.4% on the back of the Governments latest round of its cash for bangers scheme.
Already in it's FOURTH phase, the Spanish Government ploughed an additional €70 MILLION into the scheme where buyers can claim up to €2,000 cash back on their old vehicle. The incentive is paid on a 50:50 arrangement between the government and the Spanish auto industry.
Year to date, nearly all European markets are down by as much as 8%, whilst Spain is in growth at 1.1% and the UK at 10.2%
Mazda claimed the lion's share of new car sales at 57.1% whilst Alfa Romeo is the biggest loser -34%.