Ryanair Engages Customer Friendly Policies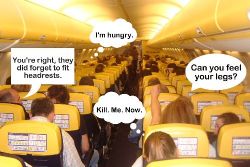 Controversial Irish budget airline Ryanair has today announced changes to its website which it hopes will win favour with passengers as it attempts to become more customer friendly.
The airline which has a long tradition of bad press appears to be changing tactics as it attempts to regain favour with passengers fed up with lousy customer service and it belligerent charging policies.
The introduction of a 'Fair Finder' function will allow passengers to quickly find the exact flights which are on offer or have been discounted. Likewise, customers can enter their budget for flights and the website will find the best flights which meet that budget.
Detailing the changes in a presentation this morning, Ryanair management also said they have under gone a transformation over recent weeks as it targets more customer-friendly policies.
Additional plans include allocated seating throughout its aircraft from next year as well as passengers being able to make minor changes to their tickets for free within 24 hours of booking as well as a new mobile app due to launch in may 2014.
The airline has already launched a new homepage on its website where they claim a ticket can be bought in as little as 40 seconds.
Ryanair are also intending to introduce country-specific websites with tailored content specifically for the location. The roll out will initially target Italy and Spain and hopes to eventually include all location within which it operates.
Despite promising words of being more customer friendly, many of the biggest issues travellers who use the airline face have not been addressed such as printing boarding passes, the overall lack of customer representatives at airports and the need to use premium rate telephone numbers to get help or information.