Royal Yacht Runs Up €1 Million Sale Tab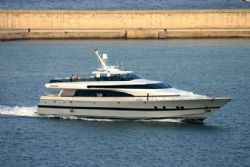 The sale of Spanish Royal Yacht Fortuna has so far run up a bill of more than €1 Million as the troubled monarchy struggles to offload the luxury vessel.
Fortuna was mainly used to entertain visiting dignitaries, including Princess Diana and Prince Charles in 1990, as well as for family photo shoots with the Royal Family.
However, a corruption scandal encircling the royal house, deep public austerity and objections by Spanish subjects over the opulence the monarchy enjoys at the expense of struggling tax payers all led to the Spanish King's decision to offload the vessel in what many believed to be a PR stunt to win favour with the public.
As use of Fortuna was discontinued, staff aboard the boat which were laid off subsequently embarked upon legal proceedings over their dismissal.
The Captain and crew all filed complaints for illegal dismissal which a court agreed with and awarded compensation of €133,789 to the Captain and €100,000 to each of the SEVEN crew members. It is unclear whether their legal expenses are included in the compensation or additional.
The compensation will be taken from the Spanish equivalent of the civil list, the Patrimonio Nacional, which draws from taxpayer's funds.
The €21 MILLION super yacht Fortuna was a gift to the Spanish king from a group of wealthy business men from the Balearic Islands, who through its sale, hope to recoup some of their costs.