Expats to face capital gains tax when selling UK property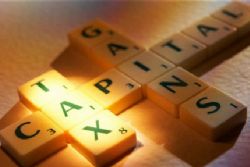 UK Expats are to be charged capital gains tax alongside wealthy foreigners selling properties in the UK under new plans expected to be announced by the chancellor George Osborne.
Deputy PM Nick Clegg disclosed the coalition government's proposals, stating that they would ensure foreigners selling property in the UK "pay their fair share".
Any expats classed as non-residents in Britain will be put in the same category and therefore also charged the tax.
It is not known how many of the 5 million Brits living abroad still own property at home, but there is the potential for it to be a substantial number.
Experts within the tax industry have said that the impact on those who go abroad to work while retaining property in the UK could be significant, especially when it comes to selling homes.
The government's motivation behind the measures is to counteract a housing bubble that many feel is being created by foreign buyers who consider flats and houses in London and the South East as a sound investment.
Many British families have been priced out of the market in these areas and in London particularly, where house prices are outstripping inflation.
Last year alone, international investors spent more than £7 billion on properties in the capital, increasing demand exponentially.
Several ways of increasing the tax on multi-million pound dwellings have been proposed and estimates suggest that this latest one will raise less than £100 million for the Treasury.
Mr Clegg insisted that the idea is not to prevent overseas investment entirely, but to ensure that Brits are not paying taxes that foreigners are avoiding.
At present, British homeowners are charged capital gains tax when making a profit on a dwelling that is not deemed to be their main residence.
The Russian oligarchs and Middle Eastern oil billionaires who are buying properties in London, however, are exempt from such taxes, making such purchases a good investment.
Mr Clegg said: "We are an open economy and we don't want to pull up the drawbridge – that would be bad for the country."
"But we certainly want to make sure that people who invest very large amounts of money into properties in central London locations, which more often than not then stand empty, pay their fair share of tax on those transactions."