Spain : The students are revolting !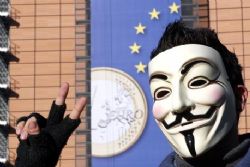 Spanish students have held a demonstration in Madrid in protest against austerity cuts, rising fees and other changes to the country's education system.
The demonstration began before the offices of the Ministry of Education in the capital, in order to express their anger at how on going austerity measures are damaging education in Spain.
Whilst cuts have been widespread across the public sector, the Minister for Education, Jose Ignacio Wert, recently confirmed that his sector had seen a 7% cut in spending over the last 2 years alone
Students are concerned that University will only become accessible to those with wealthy parents, and whilst unemployment in the under 25 age group remains at around 45%, concerns are that the country's younger generation will be forced overseas to find work, leaving a gap in the workforce for future generations.