Tough Words Over Gibraltar from UK Yet Little Action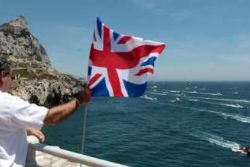 UK Ministers across the political spectrum have unified their voice in condemning Spain's repeated belligerence towards Gibraltar following an emergency commons session yesterday.
Foreign Office minister Mark Simmonds was summoned to the commons to answer question over Britain's response to lengthy border delays across the frontier and maritime incursions into territorial waters by Spanish navy vessels.
The latest incursion lasted 22 hours and forced Royal Navy personnel to once again intervene in what appears to be menacing and provocative actions by the Spainish.
However, despite the Spanish Ambassador being summoned once again by the Foreign Office for a dressing down, little action is being taken to actually put an end to the situation.
Mr Simmonds said "We stand ready to do whatever is required to protect Gibraltar's sovereignty, economy and security" yet added Britain "would not escalate a dispute that he said must be resolved through political and diplomatic mechanisms".
Despite several months of the same "political and diplomatic" avenues being talked about, the situation persists and little appears to have changed and still it's the Spanish public who are feeling the brunt of the Spanish pressure, likened to the Franco dictator era.
Calls from UK and Gibraltar politicians for a much tougher and decisive response to Spanish aggression are gathering pace, with some insisting more naval resources should be poured into the rocky outcrop.
Gibraltar's economy used to be built around military operations based there, however nowadays it accounts for little more than 5%. Gibraltar has a strong offshore financial and e-gaming economy and an impressively low tax regime, however the Spanish Government has long complained to the EU and international financial watchdogs, more so since Spain's economy nose dived following it's property market collapse and banking sector bailouts.