4 Weeks until Spain's 'El Gordo'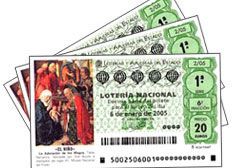 With just 4 weeks left until the 'El Gordo' Lottery draw on 22nd December, Spaniards and Expats alike have been seemingly undeterred by the fact that as from this year, any prize fund over the value of €2,500 will be taxed at the rate of 20%.
The Spanish State Lottery - Loterias y Apuestas del Estado (LAE) - have confirmed how the average Spaniard spends €70.60 on El Gordo de Natividad alone (equating to just under 3 'Decima's' per person), making it the largest lottery in the World.
Tickets are sold from Spain's 4'100 Offical 'Loterias y Apuestas del Estado (LAE)' kiosks, however tickets can be purchased online, although the buyer is recommended to scrutinize the legality and smallprint of any such purchase agreement - and the cost paid.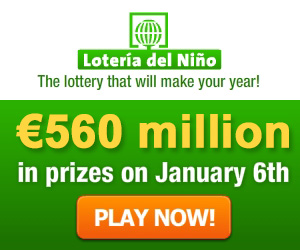 >> Play the Spanish Christmas Lottery NOW - Click for more info <<
There are only 100,000 tickets printed, each with 180 copies, each copy has 10 shares, known as "Decimas", which adds up to a total of 180 Million decimas - each of which can be purchased for €20.
Quite often club, societies and communities will sell further shares in a collection of Decimas for a smaller sum.
On the day of the draw - 22nd December - the numbers are selected in the form of balls with a 5-digit number on them being drawn from a barrel. Once the ball is chosen, the prize is selected from another barrel, and children from San Ildefonso School, the oldest school in Madrid sing out the numbers to a panel of adjudicators.
With the top prize being €4 million - to be divided by the number of Decimas owned (usually 10 induviduals, but in some cases one person can own all 10) - the odds of winning the jackpot are 1:100'000. The odds of winning any of the prizes are 1:7.
More on How to Play the Spanish Lotteries by clicking the link >> HERE << .