Spain vows to keep budgets in line with EU law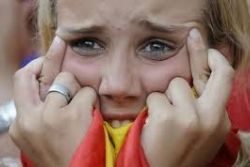 Spain promised on Friday they would take additional steps to ensure their 2014 budget falls in line with EU law, after the European Commission expressed concern over initial drafts last week.
Using its new powers to judge national budget plans, the EU's executive arm last week reviewed the draft budgets of euro zone countries, the first time it has done so before they are sent to national parliaments to become law.
Although no draft plan was sent back to be reworked, the Commission said the budget outlines of Italy, Spain, Malta and Finland could put their governments in breach of EU laws on deficit and debt reduction.
The chairman of euro zone finance ministers Jeroen Dijsselbloem said however that ministers from all the countries at risk of breaking EU rules had declared at a Friday meeting in Brussels they would ensure compliance.
"We invited those member states to take... additional consolidation measures within national budgetary processes or in parallel," Dijsselbloem told a news conference.
"These member states are in particular Spain, Italy, Malta and Finland. Their respective ministers showed their full commitment to address this risk and explained how they planned to respect the budgetary rules," he said.
"In the case of Spain, we were informed that measures are currently in preparation, including a 2nd round of labour market reform."
SPANISH DEFICIT
As far as Spain is concerned, the Commission said next year's budget draft was too optimistic about economic growth, while planned cuts in the structural deficit were too small. Spain expects its economy to expand 0.7% next year after a 1.3% contraction in 2013. The Commission believes Spain will grow only 0.5% .
"It's a small difference and I would underline the Spanish government's determination to meet public deficit targets for 2013 and 2014," Spanish Finance Minster Luis de Guindos told reporters on entering the ministers' meeting.
"It is logical that the Commission warns us of the risks of not meeting targets. But we know this. We have a road map of reforms, some of which still need to be implemented," he said.
EU Economic and Monetary Affairs Commissioner Olli Rehn told the news conference the Commission wanted to see additional measures that would cut Spain's structural deficit by 0.25% of GDP.