Spain to see Population shrink 5.6% by 2020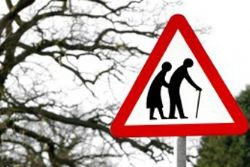 Spain's National Institute of Statistics (INE) reported on Friday how by the year 2017 the country expects to see the number of deaths exceed the number of births.
The study also revealed how the population is expected to fall by 5.6% to reach 44.1 Million by the year 2020.
The report concluded that the statistics reflect "the intensity of the aging process" among the population, accelerated by a declining birth rate and the growth of emigration, and that the drop in births will result from the country having fewer women of child-bearing age. This is already considered to be a low level, after a similar 'baby-bust' seen in the late 1980's - early 1990's is now having an impact on the next generation.
As far as deaths are concerned, in 2022 life expectancy is predicted to stand at 81.8 years for men and 87 for women, compared with the current 79.3 years and 85.1 years, respectively.
The INE estimates that Spain will end 2013 with 242,437 fewer inhabitants, in line with the negative trend that started the year before.
According to forecasts, the number of births will keep declining in the coming years, continuing the trend that began in 2009. Deaths are expected to increase in number despite the loss of population and greater life expectancy, due to the aging of the population.
Thus, by 2017, Spain will have more deaths than births, which means its balance of living humans will be negative for the first time, the INE said. This year 291,909 immigrants will arrive in Spain, 7.1% less than in 2012, and for every person that comes here, two will leave.