Spain deficit to September in line to meet 2013 target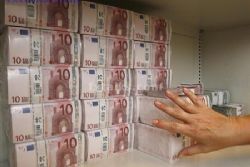 Spain was on track to meet its 2013 public deficit target as of the end of September, Treasury Ministry figures showed on Monday, in the latest sign that one of Europe's biggest funding gaps may eventually be coming under control.
The public deficit stood at 4.8% of GDP at the end of September, Treasury Secretary Marta Fernandez Curras said, unchanged from August and holding below a full-year target of 6.5%.
The figure includes the central government, social security and Spain's 17 regional governments, but not city halls.
Spain emerged from a two-year recession in the third quarter, and its borrowing costs have fallen to record lows, showing it has come a long way from its unsustainably high financing costs last summer, when most investors expected the government to seek sovereign aid.
The big fall in its borrowing costs began after ECB President Mario Draghi pledged last summer to do "whatever it takes" to save the euro.
"When I spoke before you this time last year, Spain's economy was passing through a very difficult and uncertain stage," Bank of Spain Governor Luis Maria Linde told Senators in the upper house of Parliament on Monday.
"Since then, there's been a notable improvement and signs it is overcoming the second recession in this prolonged crisis," he said. But he added that there was still a risk the deficit goal could be overshot as the recovery remains weak.
Spain's economic upturn prompted debt-rating agency Fitch to upgrade its outlook to stable from negative at the beginning of November, citing progress on the deficit and the sooner-than-expected return to growth.
Treasury Minister Cristobal Montoro told Reuters last week that economic growth and a widening of the country's taxable base would help it bring its deficit below the European ceiling of 3% of GDP without the need for more austerity.
The Spanish upturn contrasts with growing concerns over its northern neighbour France, where President Francois Hollande, whose popularity is sliding, is struggling to push through reforms to promote growth and cut France's deficit.
S&P cut France's sovereign credit rating by one notch on November 8, saying Hollande's reforms were not enough to turn around the euro zone's second-biggest economy.
Hollande is due to meet Spanish PM Mariano Rajoy in Madrid on Wednesday.