SAREB tests demand for Spain rental investors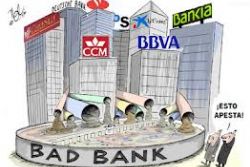 Spain's bad bank (SAREB) is offering 7 rented residential blocks for sale in Madrid, Barcelona and Guadalajara, taking advantage of demand from international investors building rental-home businesses in the country.
SAREB will set a minimum asking price for the Dorian property portfolio, which includes 5 buildings in Madrid, 1 in Barcelona and 1 in Guadalajara, Juan Barba, head of real estate for the bank said in a Nov. 25 interview in Madrid. The homes were built from 2007 through 2011, he said, without disclosing their value.
"This type of sale is going to be our typical bread and butter in years to come," Barba said. The rental market in Spain, which has one of Europe's highest homeownership rates, may double in coming years as government spending cuts, a 26% jobless rate and subdued mortgage lending make it more difficult for Spaniards to buy dwellings, according to Irea, a debt-restructuring firm that has advised on €22 Bln of refinancing.
Increasing demand for rental properties is prompting foreign funds to invest in Spain's unsold homes, which may total 1.3 million units, according to Idealista.com, the country's largest real estate website. New York-based Blackstone Group, which has bought about 40,000 homes in the U.S., agreed in July to purchase 18 apartment blocks from the city of Madrid for €125.5 Mln. New York-based Goldman Sachs Group and Madrid-based Azora Capital SL agreed in August to pay about 20% more than the minimum asking price for 32 social-housing developments sold by Madrid's regional government.
Soured Deals
"There are very good investors for this type of product and we've already seen purchases by Blackstone and Goldman," Barba said.
HIG Capital LLC, a Miami-based private-equity firm, agreed in August to buy a majority stake in a portfolio of around 1,000 homes from SAREB. The transaction, known as Project Bull, valued them at about €100 Mln.
Not all of the sales have gone smoothly. Blackstone, the world's largest private-equity firm, and Goldman dropped out of an auction for 1,458 homes in Madrid, leaving them unsold, 2 people with knowledge of the matter said. Funds are being selective, focusing on homes with tenants and rental income in urban areas like Madrid, Fernando Encinar, co-founder of Idealista.com, said in an interview in September.
The investors' strategies in Spain differ from the U.S., where they have targeted mainly foreclosed single-family properties, renovated them and sought tenants. In both countries, they're aiming to buy cheaply and bet on increased rental demand as more people struggle to qualify for mortgages.
SAREB's Sales
SAREB failed to attract high enough bids for its Corona office portfolio, its 1st attempt to sell commercial real estate assets, and cut the size of the package offered from 7 to 4 to make it easier to sell, three people familiar with the matter said last month.
Spain set up SAREB last year to absorb €50.8 Bln in real estate assets from lenders including the Bankia group, which took state aid. SAREB may close the sale of Corona this year after choosing 2 bidders to submit binding offers by the end of next week, Barba said.
Madrid-based Aguirre Newman SA is advising SAREB on the sale of the portfolio of office buildings in central Madrid.
SAREB has raised €1.7 Bln so far this year, beating its 2013 target of €1.5 Bln, Deputy Economy Minister Fernando Jimenez Latorre said at a conference in Madrid last week. Barba declined to give an asset-sales target for next year.
Fortress Investment
SAREB also has sold its Abacus portfolio and other loans with a combined nominal value of €323 Mln to Frankfurt-based Deutsche Bank. It's currently in talks to sell debt with a nominal value of €440 Mln in Madrid-based real estate developer Realia Business to New York-based Fortress Investment Group.