Spain to Veto EU Membership of Independent Scotland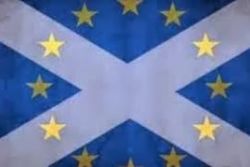 Any plans an Independent Scotland might have for a smooth entry path into the EU look likely to scuppered by Mariano Rajoy.
The Spanish PM yesterday gave a joint press conference with President Hollande of France, where he commented that "a region which obtains independence from a nation state of the EU will stay outside the EU".
The announcement therefore complicates any Scotland's EU membership as rules on accession require a unanimous vote by member states, which would allow the Spanish to veto an application by Alex Salmond's government.
Spain has previously refused to recognise the state of Kosovo, fearing that doing so would strengthen the hand of Spain's Basque and Catalonian independence movements.
The rules as published on the EU's website notes : "Under Article 49 of the TEU, any European country wishing to join the EU shall apply to the Council which, before taking a decision, must consult the Commission and ask the European Parliament for a favourable opinion adopted by an absolute majority of its members.
"The Council then makes its decision unanimously. The Member States and the applicant country come to an agreement on the conditions for accession and adaptation of the treaties and institutions which are entailed by accession.
"This agreement, or Accession Treaty, is subject to ratification by all the signatory States."
Scotland Membership against EU law
Rajoy went on to say "If a region or territory of a member state breaks away and becomes a new independent country they will become a third country, with respect to the EU, and its treaties won't apply to them.
"This has lots of consequences - economic, currency, markets, immigration and borders.
"To get back what membership means and implies isn't simple. You have to be a European state, you have to ask for admission and this has to be accepted unanimously.
"This is the law - and the law as it is in all the European states - and it is natural that it is applied.
"As far as this goes, I've got no other considerations to make. If it is not what all the European countries signed.
"As for today, if I can make my own considerations - one which is a bit more personal and political, the other one that I have is basically what the law says.
"The times in which we live demand strong countries and unity isn't contrary to autonomy - it is a guarantee of strength in a world that is ever more complex and ever more globalised.
"It doesn't benefit our regions, I'm referring to European ones, neither does it our citizens, I'm referring to European ones, to put down divides.
Lack of clarity
"It doesn't benefit to put down divides or solitary adventures of an uncertain future. The point of exit and the point of arrival is unknown."
A spokesperson for Deputy First Minister Nicola Sturgeon responded to the apparent challenge to Scotland's continuing membership.
"Scotland's future is first and foremost a matter for the people of Scotland. We note that the Spanish Prime Minister has said he has not read our proposals, but Mr Rajoy has previously indicated that he considers the Scottish and Catalan situations are 'absolutely and totally different'. That is because the process for Scotland becoming independent is enshrined in the Edinburgh Agreement, where the UK Government has pledged to respect the outcome of the referendum.
"As the papers we have published outline, we have detailed a process which will see Scotland negotiate its position as an independent member of the EU from within, during the 18-month period between a Yes vote and independence day – a period when we will still be part of the EU as part of the UK, and which has been described as 'realistic' by the UK Government's own legal adviser. That process, under Article 48 of the Treaty of the EU, allows for Scotland to become a member state at the point of independence.
"Scotland is already an integral part of the EU, and there is nothing in the entire body of EU treaties which provides for the expulsion of an existing territory or the removal of its inhabitants' rights as EU citizens.
"And, of course, the only serious threat to Scotland's continued EU membership comes from Westminster's in-out referendum, which could see us dragged to the exit door of Europe against our will."
The leaders of the pro-Union parties were quick to respond to Rajoy's comments.
Scottish Liberal Democrat leader Willie Rennie MSP said: "The nationalists insisted an independent Scotland would not be put outside the EU but this intervention from the Spanish PM directly contradicts this assertion.
"Hard won opt-outs on Schengen, the Euro and the rebate would be in doubt and might have to be traded away to get back in. At breakfast the SNP said there was little doubt, by tea time there was little certainty. "This is just one EU country. How many more might speak out?"
Scottish Conservative leader Ruth Davidson MSP said: "The Spanish PM has just blown Alex Salmond's case for EU entry out of the water.
"We need to know what advice the SNP received before they laid out their threadbare case in the White Paper, whether they'd spoken to other member states or even checked basic facts with EU officials.
"It seems the First Minister has been playing fast and loose with the facts on EU entry and has been spectacularly caught out.
"This is a devastating blow for the Separatists' case and they appear to have no plan B.
"Alex Salmond has some pretty tricky questions to answer about where they go from here."
Better Together leader Alistair Darling said: "This is another blow to Alex Salmond's claims that nothing would change if we vote to go it alone. Rajoy has just made it clear that everything would change.
"We now know what the position of the Spanish government would be if we vote for independence. "This has created even more uncertainty."