Education Law Passed With Just PP Support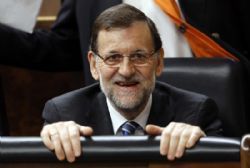 Counting only on the votes from its own members, Partido Popular (PP) lawmakers in Congress on Thursday passed controversial education reforms, with all opposition groups voting against the measure.
The PP's only parliamentary partner, Union, Progress and Democracy (UPyD), abstained from the voting.
The Law to Improve the Quality of Education (Lomce), which was drafted by Education Minister José Ignacio Wert, has come under fire from lawmakers, teachers, parents and many other sectors because of several amendments included in the bill. It was initially designed to reduce high dropout rates in Spain (almost double the European average), and low achievement levels, but clauses were also added that give a bigger role for religion in schools and addresses state funding at learning institutions that segregate students by gender.
Dubbed the "Wert Law," the reform also enforces the use of Spanish language in the classroom in Catalonia, which prompted people in that region to campaign against the bill.
During the debate, the minister came under attack from opposition lawmakers who described the law as "an abomination" and a "botched job that goes against common sense."