PP tones down draft "anti-protest law"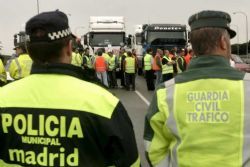 A commission of secretaries and sub-secretaries of state on Wednesday drafted amendments to the controversial Citizens Safety Law, pulling back on some of the fines proposed in the original draft bill. The proposals caused a swift response from social groups protesting against what they dubbed the government's "anti-protest law."
Chief among the tweaks made to the bill was downgrading to "serious" the offense of participating in a protest in front of Congress, the Senate or regional assemblies that has not received prior authorization. In the first draft, this was considered a "very serious" infraction and carried a fine of up to €600,000. The offense of insulting or threatening a police officer was also reduced from "serious" to "light."
Interior Minister Jorge Fernández Díaz is expected to present the draft at the regular Cabinet meeting on Friday for approval. It will then be debated on the floor of the lower house.
Opposition parties, legal bodies and social groups railed against the law when it was first aired last week, and on Tuesday Fernández said the draft was "open to all suggestions" from the judiciary. The text still maintains fines of between €30,001 and €600,000 for serious offenses, as its 1992 predecessor did.
Among these are holding protests at key infrastructure points such as airports or power plants, threatening public safety at public events and a new addition, shining lasers into the eyes of pilots and rail and bus drivers.
In the list of serious offenses, which carry fines of between €1,001 and €30,000, are prostitution near schools, cultivating or transporting drugs, concealing one's face during public disturbances and climbing public buildings to protest.