Spain passes law that may open the door to fracking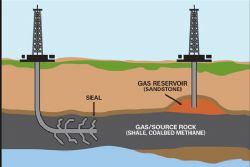 Spain's parliament passed an environmental impact law on Thursday that could open the door to hydraulic fracturing or fracking, a controversial method of extracting shale gas that has not been used used up to now in the country.
The government said it would evaluate hydraulic fracturing, the first mention in a Spanish law of the technology, which has been banned in France and Bulgaria.
Lawmakers in the northern region of Cantabria had unanimously voted in April to ban fracking on environmental grounds, dashing the centre-right government's hopes to develop a region believed to be rich in shale gas.
Spain, in the grips of a severe economic downturn marked by high unemployment, imports around three-quarters of its energy needs and fracking could help relieve its dependence on foreign sources of fuel.
Early estimates indicate Spain has large shale gas reserves, but environmentalists are concerned about the technology, which involves injecting water and chemicals at high pressure into underground rock formations.
Recommended Reading
• Spain Sees New Fracking Law Take Effect Tomorrow
• Valencia Earthquakes "Manmade" : Minister