Spain Royal PA Not Immune as Investigation Witness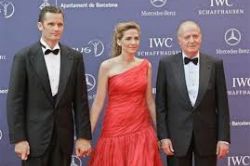 A three-judge panel in Palma de Mallorca on Friday denied a petition filed by the official royal secretary to be excluded from the ongoing investigation into the diversion of public money that allegedly took place at the non-profit Nóos Institute.
Carlos García Revenga, who serves as secretary to Princesses Cristina and Elena, was targeted in the investigation in January by Judge José Castro after co-defendant Diego Torres released a batch of emails that suggest he was privy to the alleged diversion of public funds that was taking place at the institute. The non-profit entity was run by Iñaki Urdangarin, Princess Cristina's husband, who is the main target of the inquiry, and his business partner Torres.
Castro is also investigating a supposed 150,000-euro deposit and withdrawal made on the same day, December 27, 2006, at a CaixaBank account on which Urdangarin and his wife were co-signers.
The princess has not been included in the inquiry.
Recommended Reading
• Spanish Prosecutor : "Princess Cristina has no Case to Answer in Investigation"
• Royal Couple Failed to Pay €281,109 in Corporate Taxes
• Duke of Palma Causes Further Embarrassment to Spanish royal Family