Voter support for Spain's small political parties grows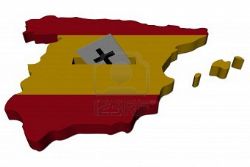 Spain's small political parties are gaining support from voters disillusioned with the country's two largest parties, an opinion poll showed on Sunday, meaning coalitions would be needed to pass major laws.
If general elections were held today, the result would be the most fragmented since Spain's return to democracy in the late 1970s, the Metroscopia poll published in newspaper El Pais showed.
Spain's ruling centre-right People's Party (PP) would still beat its socialist rival in an election with 33.9% of the vote, down from the 44.6% it won in 2011 to achieve an absolute majority in parliament.
The leading opposition Socialist party would win 31.5% of the vote, up from 28.7% in 2011, but to govern would need a coalition with leftist party Izquierda Unida (IU), for which support has nearly doubled to 12% in the past 2 years.
Voters have grow increasingly disenchanted with the ruling PP party, which has implemented harsh austerity measures to cut Spain's public deficit while dealing with a corruption scandal involving party members.
Meanwhile, support for small centrist party Union Progreso y Democracia (UPyD) has grown, with it projected to capture 7.1% of the vote if elections were held today versus 4.7% in 2011.