AENA Tender Contracts at San Javier Airport : What About Corvera?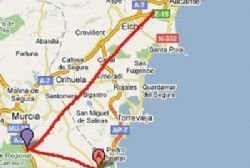 AENA has put the contract for ground handling at Murcia's San Javier airport for the next seven years out to tender.
This comes despite the fact that the airport authority has agreed to transfer operations to neighboring Corvera Airport once the new airport opens.
The contract for San Javier's comes as part of a parcel of AENA's 21 public airports which handle fewer than 1 Million passengers per year - despite the fact that passenger numbers at San Javier are currently 1.2 Million.
Ground Handling services at San Javier is currently managed by Menzies Aviation Group, who have announced their intention to re-bid on the contracts of the 5 Spanish airports where they currently operate.
Ground Handling at San Javier will fall in the same parcel as Almería, Burgos, Huesca Pyrenees, Logroño-Agoncillo, Salamanca, Valladolid and Zaragoza.