Cyber Monday Euphoria Sweeps Europe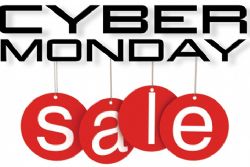 Pre-Christmas shopping is expected to break all records today as millions of bargain hungry shoppers join in the euphoria sweeping Europe and take advantage of incredible online discounts in a one day only super sale.
The annual phenonomen, dubbed Cyber Monday, follows Black Friday where high street retailers offer massive discounts both of which immediately follow the US Thanksgiving holiday.
However, Cyber Monday has grown in popularity across the globe year on year as more and more online retailers recognise its importance in the Online Shopping market place.
Amazon the world's biggest online store , expects around 3.5 million orders to be placed on its website today, whilst Visa expects around £450 million to be spent today in around 7.7 million online transactions.
In Spain alone, traditionally a high street retail country, online shopping is a major growth industry and today is expected to yield MILLIONS of Euros in sales.
Some of the biggest purchases today will include iPads , Smartphones , Games Consoles , branded clothing and even Flat Screen TV's all of which benefit from massive discounts today only.