Spain's SAREB to sell portfolio at 46% discount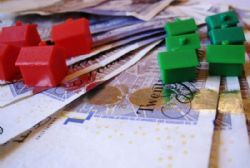 Spain's bad bank will sell €437 Mln of loans taken by Realia Business to Fortress Investment Group for 46% less than their face value, 2 people with knowledge of the matter said.
In addition to the New York-based private-equity firm, at least 8 funds expressed interest in buying the debt from the Madrid-based bank known as SAREB, one of the people said. Both asked not to be identified because the information is private.
The government set up SAREB last year to absorb €50.8 Bln in real estate assets from lenders including the Bankia group that took state aid after the Spanish property market slumped. SAREB has raised €1.7 Bln this year, beating its target of €1.5 Bln, Deputy Economy Minister Fernando Jimenez Latorre said at a conference in Madrid last month.
Realia, Spain's second-largest publicly traded real estate company by market value, reported a 9-month net loss of €17.3 Mln and net financial debt of €2.2 Bln. Last month, the Bankia group and Fomento de Construcciones y Contratas SA, which together own about 58% of Realia, hired Goldman Sachs Group Inc. to seek buyers for their stakes.
Realia rose as much as 2.2% in Madrid trading and was up little changed at 91 cents as of 11:52 a.m. The stock has climbed 21% this year, giving the company a market value of €251 Mln.
A spokeswoman for SAREB declined to comment. A spokesman for Fortress, based in New York, also wouldn't comment.