Spain's desperation: 20,000 apply for 400 IKEA jobs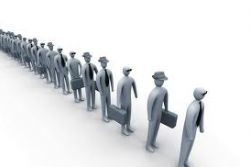 A flood of job seekers crashed IKEA's Spanish servers twice this week after some 20,000 people applied for just 400 positions at the Swedish furniture makers' new store in Valencia, Spain.
Almost a third of all unemployed in the 17-country euro zone area reside in Spain, and while the government said November's registered jobless figures on Tuesday showed an improvement, net job creation is not expected until next year.
Applications for positions at the new store, due to open in 2014 in Alfafar, a small town outside the city of Valencia, collapsed the company's servers within hours on Monday prompting IKEA to install a backup, which also failed.
The company has closed the site to new applicants until they find another solution, a spokesman said.
"The traffic we saw in the first two days was four times greater than any other job application process previously opened by IKEA in Spain," said Rodrigo Sanchez, spokesman for Ikea in Spain.
Spain has been left with almost 6 million unemployed after a decade-long property boom crashed in 2008, sending shock waves through its economy, from construction to retail to banks.
The economy grew for the first time since early 2011 in Q3, while a survey looking at the services sector, worth around two thirds of output, showed its strongest growth in over 3 years in November.