Spain to Privatise Rail Services From Early 2014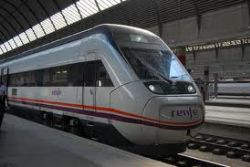 Earlier this week Spain's Minister of Development announced how a number of the country's rail services would be opened up to the private sector from early next year.
Ana Pastor told the Spanish press how the measure "Can not be done overnight because it would be inefficient for the new entrant and for the public operator", she said, indicating that the process of granting operating licences would follow studies to determine future growth potential.
According to the Ministry of Development, opening up the Rail sector to competition will create a greater range of services and more competitive fares, while at the same time increasing rail use and optimising the level of public support for the railway. It would also enable state-run RENFE 'to operate efficiently in other markets'.
The Minister also confirmed a new railway safety agency would be established,along with certain other measures to be created by the government following the fatal derailment in Galicia earlier this year.
RENFE is drafting new rules of operation to prohibit the use of mobile phones by train drivers except in an emergency, while a programme to fit all trains with black boxes was also being discussed.