Emergency Landing at Madrid-Barajas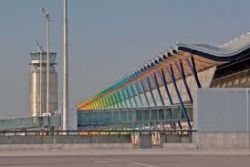 A Delta Airlines planes veered off a runway at Madrid Barajas on Thursday during an emergency landing, according to information from the Twitter feed of air traffic controllers at the airport. The runway was closed for checks after the incident, limiting the options for take-offs from the capital's main airport.
The Boeing 767 had left bound for New York just before 12.30pm, but suffered a tire blowout that forced it to return to Barajas. When the plane landed, it suffered problems with its rear landing gear, which sparked a "small fire" that was put out by emergency crews.
In a photo posted on social networking site Twitter by a passenger traveling on the plane, a hole is clearly visible in the right wing of the aircraft, the cause of which has yet to be confirmed.
A hole in the right wing of the plane, as posted on Twitter by a passenger on board the flight.
Barajas has been operating with just one runway open since the landing, but Spanish airports authority AENA has confirmed that there are no delays due to the incident. The runway from which the plane took off has already been checked, and was not found to have any debris on it from the plane that could have affected the safety of other planes.
Delta Airlines has confirmed the return of flight 415 to Madrid "shortly after take-off for safety reasons," and explained that the "plane landed normally and the passengers were also disembarked normally."