Merkel Denies Forcing Spain Into Bailout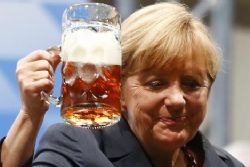 German Chancellor Angela Merkel has "no memory" of allegedly pressuring Spain on taking a bailout in 2011, her spokesman Steffen Seibert said on Friday (6 December).
Former Spanish PM Jose Rodriguez Zapatero last week published a book called "The Dilemma" about his last years in office, recalling how Merkel, as well as the heads of the European Central Bank (ECB) and the International Monetary Fund (IMF) approached him during 2010-2011 to ask his country to take a bailout.
He says he refused each time.
On Merkel, he gave a detailed account of a 2011 meeting in Cannes, where France was hosting a "G20" meeting of the world's richest countries.
"She greeted me pleasantly and almost without any introduction put forward a proposal about which we had not had any indication," Zapatero writes, as translated by Reuters.
"Merkel asked me if I was willing to ask for a preventive credit line of €50 billion from the IMF, while another €85 billion would go to Italy. My response was also direct and clear: 'No'."
Merkel and then French President Nicolas Sarkozy at the same event pressured former Greek leader, George Papandreou, not to hold a referendum on the austerity measures accompanying the second Greek bailout.
Papandreou soon after stepped down, citing extreme pressure from EU leaders to reach a political deal with the opposition on the second rescue package.
Zapatero also resigned a month later, saying he did not want his low approval rating to damage his party in upcoming elections.
In his book, Zapatero also publishes a confidential letter from former ECB chief Jean-Claude Trichet dating back to 5 August 2011.
It outlines a series of reforms which were later implemented by the centre-right Spanish government of Mariano Rajoy.
The ECB at the time helped out Spain, as well as Italy, by buying up "significant" amounts of government bonds. This helped push down Rome and Madrid's borrowing costs, which were soaring not only due to their own economic slump, but also due to contagion from Greece.
While he was in office, Zapatero consistently denied the existence of Trichet's letter. Asked about the publication of the Trichet letter, ECB chief Mario Draghi on Thursday declined to comment on "internal matters" in Spain.
Back when Draghi was the head of the Italian central bank, he co-signed a similar Trichet letter urging Italy's former leader, Silvio Berlusconi, to make reforms in return for ECB help.
In the end, Spain avoided a full-blown bailout, but did require financial assistance from the eurozone for its troubled banking sector.
Zapatero says that if he had caved in to Merkel and agreed to a state rescue, Spain would be worse off than it is today.
Recommended Reading
• Merkel Tried to Bounce Spain Into IMF Bailout