Catalonia wants to cancel licenses for at-risk drivers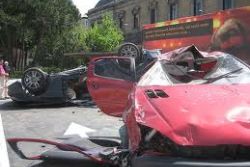 Catalonia's top road safety official said Monday that his department is considering temporarily revoking drivers licenses held by alcoholics, drug addicts and patients who take medication for mental disorders.
In an interview with Europa Press, Joan Josep Isern explained that the Catalan Traffic Service (SCT) was working with regional health officials to determine whether patients should not be allowed to drive on the roads if they suffer from certain illnesses or addictions.
The SCT has not outlined its plan in any detail but sources at the regional health department said that "it would have to be studied at length."
In 2010, traffic officials introduced measures whereby physicians would have their say as to whether a patient should be allowed a drivers permit, said national traffic safety director María Seguí.
According to the National Toxicology Institute, more than 47% of fatalities on Spanish roads are related to alcohol and narcotics.
"If we want to arrive at 2050 without deaths on the roads, we need to have those people who have determined problems to be certified by health authorities so they won't be allowed to drive because they are a potential danger," said Isern.