UK Notes "Historic Parallel" Between Ceuta, Melilla and Gibraltar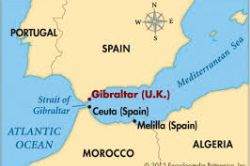 The UK drew a historic parallel between Gibraltar and Ceuta and Melilla this week, noting how although the North African enclaves had a different constitutional relationship with Spain, both stemmed from "a distinct set of historical circumstances."
David Liddington - Britain's Minister for Europe - went on to say how "We continually monitor EU and international issues which may be relevant for safeguarding Gibraltar."
The Minister was responding in writing to a Tory MP who asked the British Government to press Spain within the EU over "legal problems" arising from Ceuta and Melilla.
Philip Hollobone, the Conservative MP for Kettering, also urged the Foreign Office to commission a detailed study comparing Gibraltar's relationship with the UK to Spain's relationship with its North African enclaves.
Mr Lidington said there were no plans "at present" to commission such a study, but noted that "Ceuta and Melilla both border Morocco but are constitutionally part of Spanish metropolitan territory".
"The status of the Spanish territories of Ceuta and Melilla is, like the status of Gibraltar as a British Overseas Territory, the result of a distinct set of historical circumstances."
Recommended Reading
• Questions Asked in UK Parliament Over Spain's Gibraltar Hypocrisy
• UK Warns Spain Against Escalating Gibraltar Tensions