Contract awarded to complete works at Castellon Airport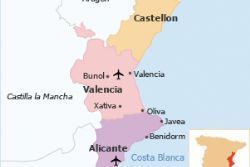 Early last week the Executive board of of Aerocas - the concession holder for Castellon Airport - awarded the contract for the remaining work required before the facility can become operational.
According to Government sources, a contract value of €588,000 was agreed with the contractor - a reduction of 25% from the original bidding value.
The successful company, though as yet unnamed, was confirmed as being based in the Valencia region.
Aerocas also confirmed that the works - required by the Spanish Aviation Safety Agency (AESA) before the facility can become operational - will begin with almost immediate effect, and be complete in time to allow the airport to become "fully operational early 2014".
AESA also agreed to extend the original deadline set whereby Aerocas can submit tenders for the operation and maintenance of the airport, until the 23rd of December.
Read further Castellon Airport news by clicking the link >> HERE <<.