Sale of Spain's Ciudad Real Airport Underway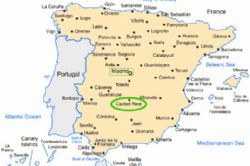 Spain's Ciudad Real Airport - also know as Don Quixote Airport - goes on sale on Monday morning for the bargain price of just 100 million Euros.
That is the minimum bid the current owners will consider, with the successful applicant having to provide a Bank Guarantee of at least €5 Mln by the time bidding closes on December 29th.
The privately owned airport cost more than €1 Billion to construct and despite a 4km runway, capable of handling the Airbus A380 super plane, cargo facilities able to process 47,000 tonnes a year and the capacity to handle 10 million passengers, the airport entered bankruptcy proceedings and closed less than 3 years after opening.
Spain's National Institute of Statistics recently reported how Ciudad Real itself only sees between 1'300 and 5'000 Hotel room nights from foreigners each month, and with the Town only having a population of 75'000 it makes the airport something of an unnecessary indulgence.
Built in 2008 and operational in 2009, Ciudad Real Airport was Spain's first privately owned airport situated almost 200km away from Madrid, however was expected to cater for both Andalucía and the capital given both are reachable by rail in 50 minutes, although the anticipated AVE link is incomplete.
Those with a little literary knowledge may find it ironic that Don Quixote himself was known for his delusional fantasies, and draw parallels with the airport.