3 Earthquakes in Lorca, Murcia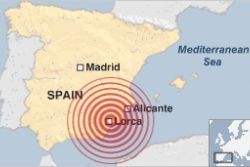 Spain National Geological Institute (IGN) has reported three minor earthquakes have been registered close to the town of Lorca, Murcia.
Whilst the activities were not strong enough to be felt by local residents on the surface, observers are watching for any developments due to the Town's unfortunate past history.
On the 11th May 2011 two earthquakes measuring 4.5 and 5.2 on the richter scale hit the town, with falling masonry and collapsing building resulting in the loss of 9 lives.
All three activities were recorded to the North-West of the Town of 100,00 inhabitants, with the events being measured at depths of between 5 - 20kms, and at magnitudes of between 1.6 to 2.0 on the richter scale.
Murcia is the most seismically active region in Spain, situated close to a major fault line beneath the Mediterranean Sea where the European and North African plates brush past each other.
Recommended Reading
• Murcia earthquakes "Could happen again soon"
• Lorca Murcia Earthquakes "Manmade"