Murcia's €40 Mln loan to Corvera Airport "Not a Bailout"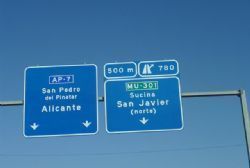 The Spokesman for the regional government of Murcia, Josι Ballesta, told El Mundo yesterday how the €40.61 Mln line of credit extended to Corvera Airport does not equate to any "bailout or endorsement" by the region.
Ballesta would not be drawn on earlier reports in the press speculating that the region had used public funds to bailout the privately owned facility, but did confirm that the money originated from one of the Banking Institutions who had an existing shareholding interest in the airport.
The Minister also went on to say how the sum corresponded to the loan made to the previous concession holder of the airport - Aeromur - for them to complete the required works at the airport.
Ballesta also explained that "the problems at Corvera have arisen from a failure to meet interest and debt repayments by the previous concession holder".
However the newspaper did go on to say how the funds were made available in order to release the burden of the €200 Mln loan guarantee that "could not be paid".
Recommended Reading
• Corvera Airport : The Numbers Don't Add Up