Spain Bans Sale of Ryanair Charity Calendar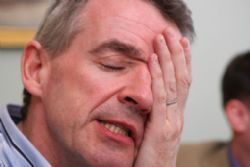 2014 will mark the final year of sales of Ryanair's controversial charity calendar, thanks to a Malaga court ruling.
The calendar - which has raised thousands of Euros for a number of charities and worthy causes over recent years - features several shapely member of the airline's cabin crew, and has been banned on grounds of sexism.
The case was brought to court by a consumer association over a year ago, who complained that sales of the calendar went against general advertising law.
The court held that, whilst the proceeds of the calendar sales went to charitable causes, the motives of the airline were for their own promotional and marketing purposes - ultimately to sell more airline tickets.
Ryanair have issued a statement defending the sale of their calendar, and confirming they are to appeal the decision.
Recommended Reading
• Ryanair Charity Calendar Double Standards
• Mr Grumpy : In Support of Ryanair
• Ryanair 2014 Charity Calendar Preview