Arrests over 'Pro-Protest' Demonstration in Madrid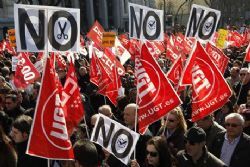 Spanish Police have arrested a number of Protestor near Parliament in central Madrid this weekend.
A further 23 were also injured during a demonstration against draft legislation introduced last month which levies heavy fines for offences such as burning the national flag.
Up to 4,000 protestors were prevented from blockading parliament by riot Police yesterday, with the arrests being made due to protestors damaging a regional police vehicle.
The demonstration was staged in protest against the introduction of a bill that proposes to set fines of up to €30,000 for infractions such as burning the flag or insulting the state.
The proposals have been approved by cabinet but still need to be ratified by lawmakers before the original 1992 law can be updated.
Recommended Reading
• PP Tones Down Anti-Protest Law
• €30k Fines For Offences Against Spain