Spain sees property prices rise for 1st time in 3 years in Q3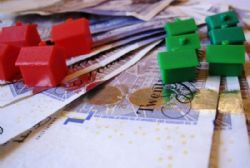 Spanish property prices rose on a quarterly basis from July to September, the first such increase in more than 3 years, official data showed on Monday
Spain's decade-long housing bubble burst more than 5 years ago, triggering an economic downturn that has left 26% of the workforce out of a job, forced a €41-Bln bailout of the country's banks and gutted domestic demand.
But after falling an average of 37% since mid-2007, prices for both second-hand and new properties in Spain rose 0.7% in Q3 from a quarter earlier, the National Statistics Institute said.
On an annual basis, prices fell 7.9%, the smallest drop since the end of 2011.
The figures are the latest sign that Spain's slump may be ending. The economy grew slightly in Q3, lifting the country out of a 2-year recession. Any recovery, however, is expected to be slow.
Spain has hundreds of thousands of new homes sitting empty. A so-called bad bank was set up to take on bad loans, many to bankrupt property companies, and it is in the process of selling those debt portfolios at knock-down prices.
The ratio of total soured loans to borrowing rose to a record high of 12.7% in September, as businesses and consumers struggled to pay off debts. Meanwhile, the country's banks have cut back on lending as they fight to improve their capital ratios before new European bank stress tests next year.
Spanish banks were issuing almost 6,000 mortgages a day at the height of the property boom in early 2007. That had dropped to less than 800-a-day by September of this year.