BMW Joins Iberdrola to Boost Electric-Car Market in Spain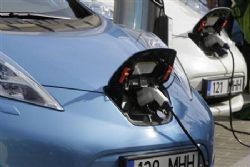 BMW, the world's biggest manufacturer of luxury cars, and Iberdrola agreed to collaborate on electric-vehicle sales in Spain as the country promotes cleaner transport to curb emissions.
Iberdrola, Spain's largest power producer, will encourage its customers to choose BMW electric vehicles, while the German manufacturer will recommend Iberdrola's renewable energy, the Bilbao-based utility said in a statement.
European carmakers are betting that battery-powered vehicles will emerge from their niche status and become mass-market products as nations strive to cut transport pollution to meet emission targets. BMW started selling its i3 in Germany last month as competitors Mercedes-Benz, Volkswagen and Nissan promote rival models.
"BMW is a newcomer in the EV space so it is clearly keen to sign strategic partners that can help promote its i3 through cross-selling opportunities," Albert Cheung, an analyst at Bloomberg New Energy Finance in London, said by e-mail. "Early EV adopters are going to be the same customer types as those that buy green tariffs, so there are synergies there."
Iberdrola's agreement with BMW, which includes projects to expand technical innovation, can be renewed annually, according to the statement yesterday.