Spanish Regions Say 'No' to Further Budget Cuts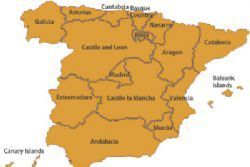 Spanish regions can't endure more spending cuts, Andalusia's budget chief said, as she defended levying a tax on bank deposits.
Maria Jesus Montero Cuadrado, budget chief of Spain's most populous region, is resisting central government demands for more cuts through 2015. Undermining health or education is a "red line" for Andalusia, which has a 36 percent jobless rate, she said in an interview in Seville yesterday.
"Further cuts can't be requested of the regions in 2015 because there is no margin to provide basic services more cheaply," Montero Cuadrado said. "The better-off must contribute more to funding basic public policies."
Budget Minister Cristobal Montoro is asking regions to trim their deficits to 1% of GDP in 2014, and 0.7% in 2015, compared with 1.8% in 2012, even as the IMF forecasts the Spanish economy will barely grow. Tomorrow, Montoro will meet local finance chiefs, who are pushing for permission to levy a tax on bank deposits, a policy Andalusia first proposed in 2010.
Andalusia implemented the tax on deposits in 2011, before the central government passed a law the following year stripping states of the power to impose such levies. Last month, Montoro said he was working on allowing regions to do so, with limits and without distorting the market.
Third Economy
Catalonia, which plans an independence referendum next year, and Valencia, which has regional elections in 2015, also want to use the tax. Montero Cuadrado said a deposit tax won't put banks operating in Andalusia - the 3rd biggest regional economy - at a disadvantage, and is needed to plug the deficit. The region will receive €108 Mln this year in compensation from the central government for what the levy would have raised.
Andalusia, which has been run for 3 decades by the PSOE that's in opposition nationally, will miss its 1.58% deficit target by "tenths of a percent" at most this year, and the 2014 budget aims to meet the goal of 1%, Montero Cuadrado said.
Even so, the region will need central-government help next year to raise financing, as markets remain closed to most regions, she said. Montoro has said the bailout facility known as FLA that raises funds for regions will continue into 2014, without giving details. Andalusia got €4.4 Bln from the fund this year, and will need similar "generosity" next year, she said.
Recommended Reading
• Spain : When is Debt NOT 'Debt' ?