Spain's bad loan ratio hits 13 pct in October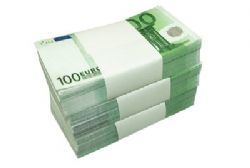 Spanish banks' bad debts as a percentage of total loans rose to 13.0% in October from 12.7% in September, marking a fresh record as credit fell again month on month, Bank of Spain data showed on Wednesday.
Households and companies are still struggling with debts even as Spain emerges from a prolonged recession, and banks have cut lending as they try to boost capital ahead of Europe-wide health checks next year.
Bad debts rose €3.3 Bln to €191 Bln in October, while total credit shrank €12 Bln to €1.47 trillion.
Recommended Reading
• Spain sees an additional 21 Bln in toxic debt
• Spain sees lending to families fall to 5 year low