Spain Markets Splinter as Europe Builds Bank Union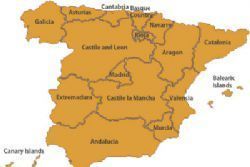 Mariano Rajoy is faced with a splintering of domestic financial markets, just as European governments move closer to a banking union.
In the coming months, the Spanish PM will allow the country's 17 semi-autonomous regions to create a levy on bank deposits, Budget Minister Cristobal Montoro said on Dec. 18 after a meeting with local budget chiefs. The government decided to comply with a ruling by the Constitutional Court saying that the tax is within the regions' powers, he said.
"Banks will suffer from the tax more than the regions will benefit from it," said Santiago Carbo-Valverde, an economist at Spain's saving banks' association Funcas, who also teaches banking and finance at Bangor University in the U.K. "The tax isn't justified from an economic point of view and will penalize banking liquidity when it's most needed."
The levy will be implemented as Spanish banks and their euro-area peers are scrutinized in a three-stage probe by the European Central Bank before it takes over supervision of them next year in a first step toward a banking union. Bank lending in Spain dropped 21% from its 2008 peak as cheap ECB liquidity did little to alleviate a funding squeeze that threatens to undermine a recovery in the region's 4th-largest economy.
Tax Overhaul
Regional deposit levies are part of a broader tax overhaul that the government will present after a task force hands over its conclusions in the first quarter.
"Investors are going to have a new reason to be worried," said Ramon Nieto, who helps oversee €1.3 Bln at Geroa EPSV Fondos in San Sebastian, Spain. "Banks will pass on the cost to their clients, making deposits less attractive and triggering a war between the regions that charge more and those that charge less."
Deposit taxes "seriously hurt" banks' capacity to win business and make them less competitive, in turn hurting the Spanish economy, Pedro Pablo Villasante, general secretary of Spain's banking association, told reporters in Madrid yesterday. "If this tax undermines market unity, that means even more difficulty."
Market Access
The yield on Spain's 10-year bonds fell below 4% this year for the first time since 2010, compared with a euro-era high of 7.75% in July 2012, when the nation came close to losing market access. Nine of Spain's regions have met that fate and now depend on the central government for funding. Eight have been allowed to continue issuing debt as long as their funding costs remain within a spread of 100 basis points over the Treasury's.
"Different tax rates and conditions in each region will worsen the market fragmentation that Spain is already suffering from," said Eduardo Berche Moreno, a professor at the Esade Law School in Barcelona, who specializes in tax law.
Montoro faces increasing pressure from the regions to increase their sources of funding as they strive to shrink their combined budget deficit to 0.7% of GDP in 2015, the last year of Rajoy's term, compared with 3.3% in 2011, when he came to power.
"Further cuts can't be requested of the regions in 2015 because there is no margin to provide basic services more cheaply," Maria Jesus Montero Cuadrado, Andalusian budget chief said during an interview in Seville on Dec. 17.
Suing Regions
Andalusia, Spain's most populous region, along with Extremadura and the Canary Islands, were the only ones that taxed bank deposits, with rates of as much as 0.5%, when the government passed a law last year that suspended them and prevented others from following suit. Catalonia and Asturias, which implemented the levy nonetheless, are being sued by the government, and Valencia will also be taken to court over its use of the measure, Montoro said this week.
The government's law followed a decision by the Constitutional Court in November last year that regions have the right to collect deposit taxes. By recognizing the ruling now, Rajoy will provide regional administrations with a way to raise money to fix their budgets.
In 2013, the central government will compensate regions that already had a tax. While Andalusia expects to receive €108 Mln, according to a budget draft, a spokesman for the Budget Ministry, who asked not to be named in line with government policy, said the amounts haven't yet been defined.
Fixing Rates
In the future, the Budget Ministry will give the regions "the possibility to fix specific rates, in a similar way to the current tax on hydrocarbons," Galicia's budget chief, Elena Munoz Fonteriz, said after the meeting with Montoro. The measure is "positive" and comes "at a moment when the regions are in need as their income is falling," she said.
Asked during a news conference, Montoro declined to comment on the bracket which might be set for the rates. "The regions' power will have to be compatible with the unity of the Spanish banking market," he said.
Catalonia has estimated revenue of about €500 Mln a year and Valencia has budgeted €230 Mln for 2014.
There are €1.45 trillion of deposits in Spain.
Recommended Reading
• Spain Considers Catalan Compensation Tax